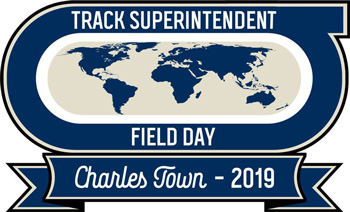 18th Annual Track Superintendents' Field Day
June 23-25, 2019
Hosted by Charles Town Racecourse

580 E 5th Ave, Ranson, West Virginia 25438
Registration • Agenda • Sponsors
Doug Bowling, our Host Superintendent
Registration
No registration fees for superintendents and staff.
For registration please send your completed form to:
Via e-mail: tracksupers@gmail.com
Fax it to: 855-863-6001
Or call Event Producers Equine Equipment at 877-905-0004
To reach Steve Andersen: 502-370-5315
To reach Roy C. Smith: 317-604-3201
2019 Agenda
SATURDAY, JUNE 22
Optional night of Charles Town Racing – First Post 8:00 p.m.
SUNDAY, JUNE 23
12:00 p.m. – Optional Golf or Vineyard's Visits or Battlefield Tour
6:00 p.m. – Welcome Reception
MONDAY, JUNE 24
8:00 a.m. Breakfast
Morning Workshops
Noon: Lunch
Afternoon Workshops
Equipment Demo's
Team Photo
6:00 p.m. Patio BBQ at Charles Town Inn
TUESDAY, JUNE 25
8:00 a.m. Breakfast
Morning Workshops
Noon: Lunch
Track Management Panel
Afternoon Workshops
Track Super's Trivia
Equipment Giveaway Drawing
Super Round Table – Supers Only
6:00 p.m. Dinner at Charles Town Ballroom
2019 Sponsors
A limited amount of sponsorship opportunities remain.
To learn more call Steve Andersen at 502-370-5315.
2019 Title Sponsor
2019 Super Sponsors
2019 Gold Track Sponsors
2019 Silver Sponsors

2019 Field Day Supporting Sponsors 
Thank You to Our Host Track